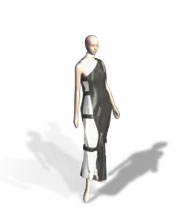 The technology of DressingSim

will make it possible to reveal the silhouettes and movements of a dress without actually wearing it. Additionally, by choosing the human model that will wear this dress and then setting its movements, that human figure can start moving and modelling the dress on your computer screen. Garments can be changed one after another, creating a veritable fashion show on your computer.

  This is the Digital Fashion Show as designed by Digital Fashion Ltd. Human models are replicated on the computer screen using a three-dimensional input device. By utilizing special motion-capture technology, the desired movements are accurately depicted on the screen. Then through creating the garment simulation images of DressingSim

, a virtual fashion show can be gorgeously presented on your computer screen.